NARTech - Woman Owned Small Business (WOSB)
Small Disadvantaged Business (SDB)
Providing Quality Digital Solutions @ Best Value
CMMI Level 5 Appraised - 3 Times!
ISO 9001:2015 certification achieved in 7 days!
For a compact, 2-page capability statement, please download the Adobe PDF Version.
Woman Owned Small Business (WOSB) – SBA Certified and 8(a) Program Graduate
Small Disadvantaged Business (SDB)
GSA Multiple Award Schedule (MAS) # 47QTCA21D008Q
Prime Contractor:

15+ year success record

CMMI Level 5 Appraised (3 times!) - Among the Top 5% CMMI Appraised US companies
ISO 9001:2015 Certified – Quality Management
D&B #: 126718340
NAICS Codes: 541511-13
SAM UEI #: MHWQGGBLE8L5
In an industry where nearly 70% of software development projects fail, NARTech has a record of delivering on-time and on-budget with 100% customer satisfaction ratings over the last 15-year period on all our prime Government IT services contracts. This project success record requires unique expertise to achieve and sustain. Key to this unprecedented success record is NARTech's highly practical implementation of the CMMI Institute's Capability Maturity Model Integration (CMMI) Level 5 practices for software development as part of the daily operational routine.
To NARTech, CMMI Level 5 is more than a badge. We are committed to continuous improvement through regular IT modernization initiatives to evaluate and implement the latest technology architecture (such as AWS/Azure Cloud, Docker, Serverless), techniques (such as Pipeline as Code, Infrastructure as Code, Data Analytics using AI/ML) and their applicability for our clients. To learn more about how NARTech can help your team in meeting critical digital solutions, software development, operations, maintenance, and IT modernization needs with a 100% success rate, contact us today at contact@nartechinc.com.
Department of Housing and Urban Development (HUD)
Federal Deposit Insurance Corporation (FDIC)
Department of Health and Human Services (HHS), CMS, NIH
Environmental Protection Agency (EPA)
Federal Housing Finance Agency (FHFA)
Gold-Level partnerships with Microsoft, AWS, Oracle, Salesforce, and other industry leaders
NARTech specializes in providing senior management consulting and both legacy and leadingedge technology expertise to government agencies. We are your partners in optimizing IT investments. NARTech has the proven team capable of ensuring your mission objectives and business processes are supported by cost-effective, industry-proven solutions.
IT Management Consulting
Strategic Planning & Assessments
Contract Start-up and Task Management
IT Governance and BPR
User Assistance and Support
Digital Solutions Design & Development
Application Systems Modernization
Agile and DevSecOps solutions
Data Governance & Analytics - AI/ML
Cloud/On-premises Infrastructure Solutions
NARTech, Inc. designs, implements, and manages digital and technology solutions in the Federal civilian marketplace to help organizations quickly achieve their business objectives with: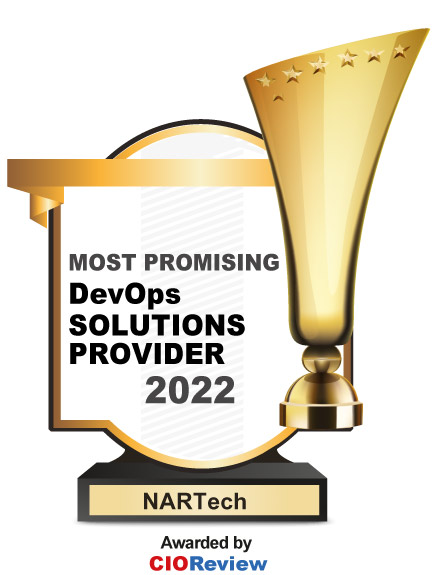 Experienced Federal IT management consulting with a strategic planning perspective
IT and Data Governance (PMO, CMMI, Agile/Scrum, SDLC, ITIL) – As a CMMI Level 5 appraised company, expert in the use of 435 best practices in 21 process areas
Digital Solutions and Application System Development and Integration Services (UX/UI, Web-based systems support, Java, .NET, Oracle, MS SharePoint-based, Salesforce, Low code, Cloud, and Mobile application system development, automated software application and security testing expertise)
DevSecOps Champion recognized by CIO Review publication in 2019, 2020, 2021, and 2022. PDF Versions: 2019, 2020, 2021, 2022
Automated Testing (SmartBear TestComplete, Mercury TestDirector/LoadRunner/WinRunner, and Segue Silk Performer IT Optimization)
Cloud-based solutions including Amazon Web Services (AWS) and Microsoft Azure
AppGen toolchain for Agile DevSecOps automation drastically cuts the time for the solution development from 3-6 months to weeks. It enables a "fast first view" of the application solution for your business requirements starting on Day 1 of the contract award.
As a Woman and Minority-Owned Small Business (WOSB), Small Disadvantaged Business (SDB), SBA 8(a) Program Graduate, ISO 9001:2015, and CMMI Level 5 appraised company with a GSA Multiple Award Schedule (MAS), NARTech has a solid corporate financial foundation and 15+ year success record as the prime contractor for stable continued operations and growth.
We understand the Federal civilian environment – the clients, budget constraints, the contractor staff assignments and performance, and the technologies.
We earn our client's trust through our proven track record of delivering quality services on time, with improved performance, in a cost-efficient manner. Our CMMI L5, ISO 9001:2015, and Dun & Bradstreet Past Performance Evaluation rank us as a Top 10% Performer in the IT services market.
We have management and technical expertise in delivering core technologies and methodologies – Amazon Web Services (AWS) GovCloud, Microsoft Azure and .NET framework, Microsoft SharePoint, Java, Oracle, C#, WebLogic, Smart Bear TestComplete, Jira, Jenkins CI/CD, GIT, Python, Jupyter, AI/ML, Unisys/IBM mainframe legacy, and the latest low code Salesforce platforms.
NARTech has a proven track record of meeting our Federal customer's needs in the following areas:
IT Policy & Governance
Project/Program Management
Data Governance & Analytics
IT Systems Modernizations
Applications Development and O&M Support
Independent Validation & Verification Testing (IV&V)
Quality Assurance (QA)
Configuration Management (CM)
DevSecOps – Pipeline as Code
Data Analytics - AI/ML
Migration to Cloud platforms
Serverless and Docker solutions